Solar theory
Heat transfering theory of heat pipe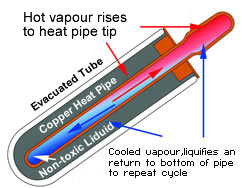 Heat transfering theory of heat pipe Inner structure for vacuum tube
Heat Pipe
Please refer to picture. Sun's ray will be collected by absorbers, then radiation can be transformed into heat energy by selective absorbing
film. Heat energy has few material in heat pipe boiled away and gone up rapidly to condensation end and then become fluid.With the gravity, it goes
back to evaporation end. Water can be heated hrough its continuous circulation. In order to make the fluid go back to evaporation end, the tilt angle
should bemore than 10 degree.
Heat Pipe Collector
Heat is transferred to collectors through heat conductor at condensation end of each heat pipe vacuum tube , which keeps heating water. There's no
water in vacuum tubes. It's easy to install. Even if tubes were damaged, the collector still can work normally.
Separate Pressurized Solar System Theory